Unlocking the Power of TikTok for Your VR Business!
The majority of people think that TikTok is just a place where others do silly dances or lip-sync to songs. There is no denying the fact that for a while, that's exactly what it was. But as the platform develops, more and more are jumping on the bandwagon. Ultimately, this unknown platform has become a mainstream product used by everyone, including the older generations. We've already seen this with YouTube, Facebook and Instagram… The prediction is clear, short-form video content is the future.
⚡️ TikTok is the fastest-growing social media platform in the world. Let's talk numbers to prove it:
Over 3 billion downloads

1 billion monthly active users

Average daily use - over 1.5 hours
💫 Each day more and more businesses appear on TikTok, and here are some reasons why:
You can use this platform to run ads

You can grow your customer base organically by posting regularly

You can us micro-influencers to promote your products\services
Don't lose the opportunity to attract more clients. Create your TikTok page now! We have prepared some recommendations on how to make the most from having a profile on TikTok.
👤 TikTok Profile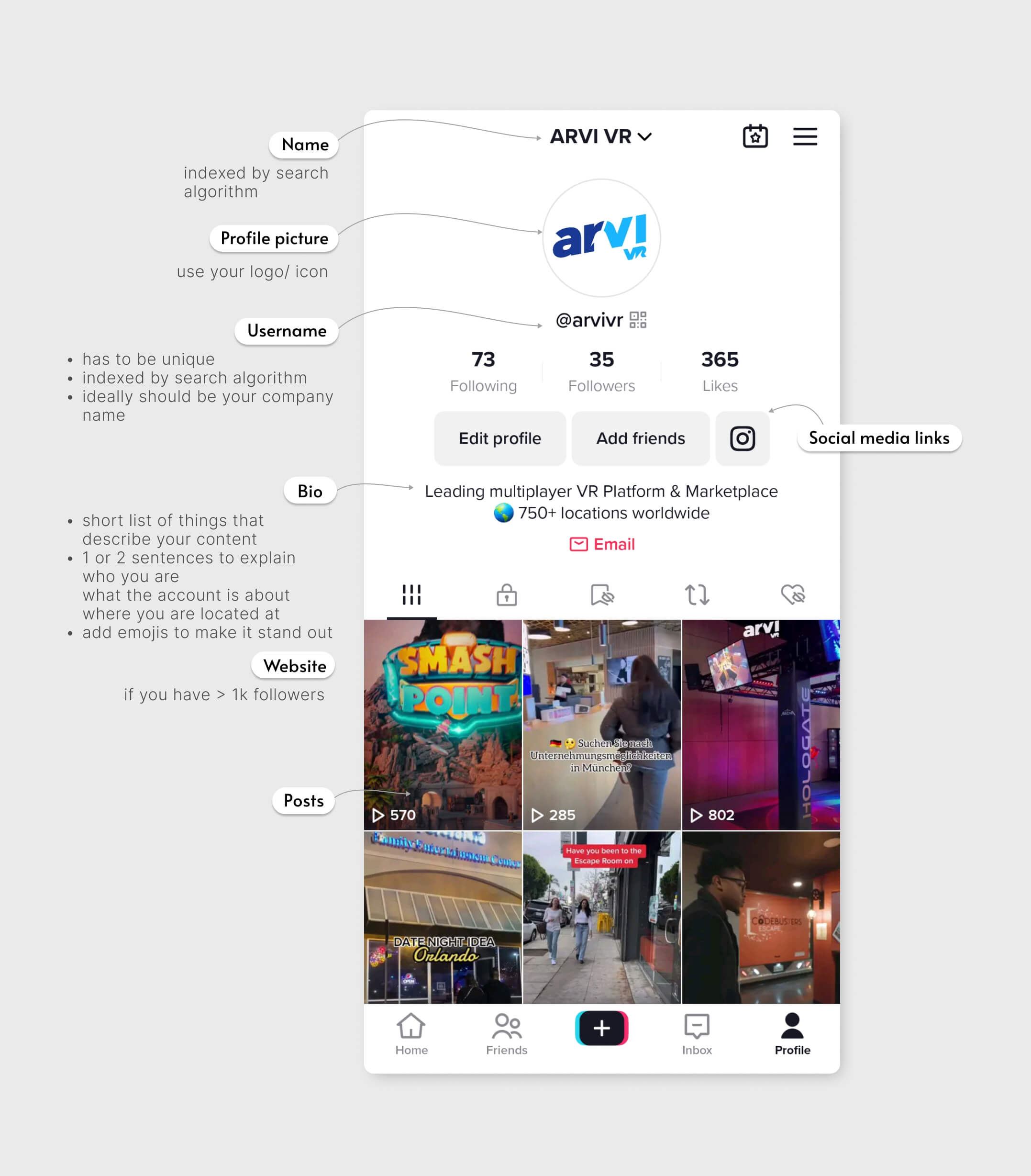 Name: indexed by search algorithm.

Username: h

as to be unique;

indexed by search algorithm;

ideally should be your company name.

Bio: short list of things that describe your content;

1 or 2 sentences to explain who you are/what the account is about/where you are located at;

add emojis to make it stand out.

Profile picture: u

se your logo/ icon.

Social media links: Instagram

& Youtube.

Website: a

vailable if you have >1k followers.

Posts.
🔍 TikTok Post elements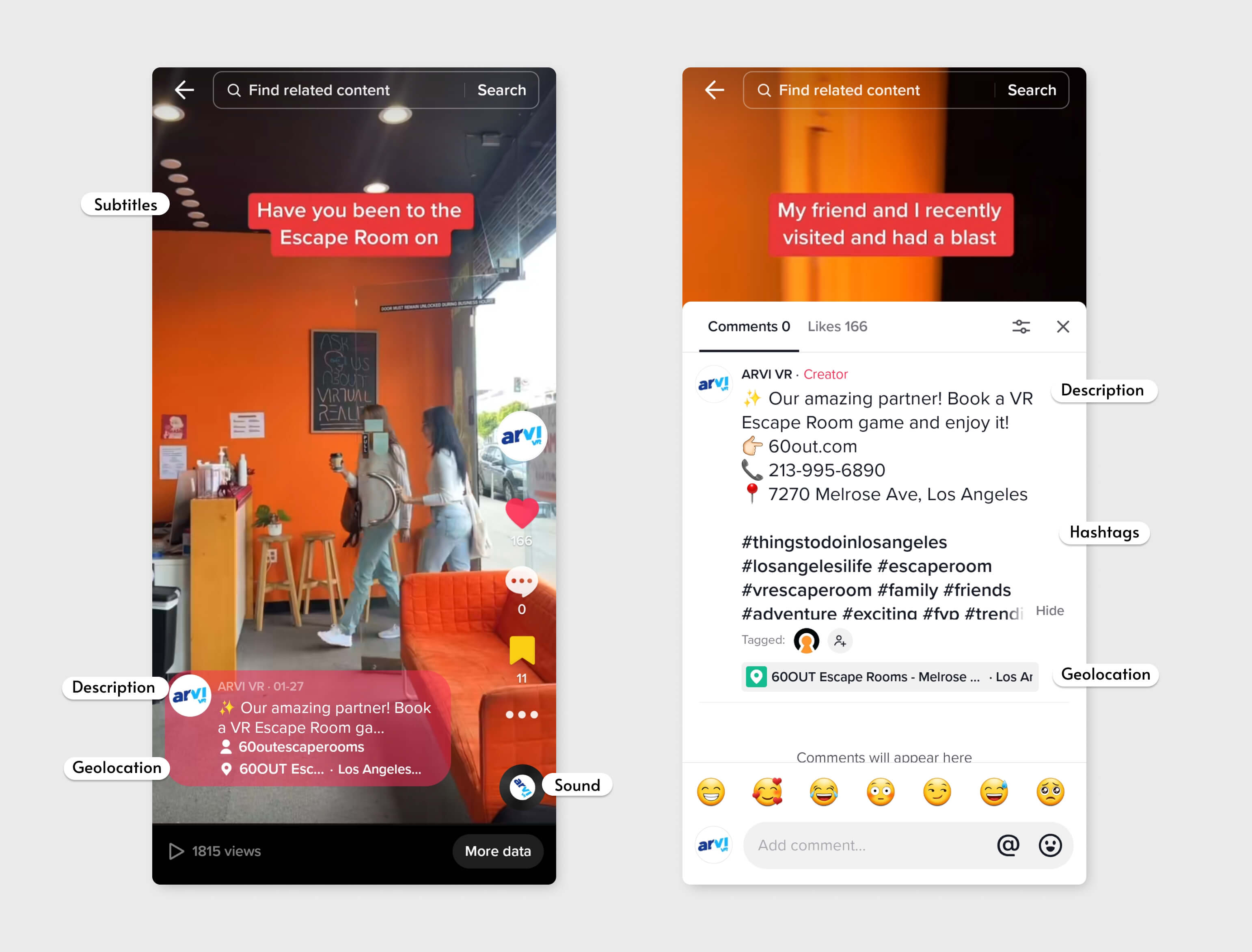 🔥 Trends
Trends are a perfect way to make your video go viral. Adapt silly dances or trendy songs which relate to your case. This is a fun way to target your audience and promote.
🍿 Video
The first few seconds of each video are the most important. Their goal is to catch the attention of potential customers, otherwise they will keep scrolling. The most popular videos last 10 seconds and have good lighting and backgrounds, as well as interesting ideas.
The most common video editors are Capcut, Inshot, Splice.


💃🏼 Sound
Use modern music and sounds or create your own voiceover. Video without sound is not a good idea on TikTok.
👀 Subtitles
Subtitles are a great way to add value to your video. People may have hearing difficulties or have the sound turned down or off. By creating subtitles you provide more explanation and understanding.
📍🗺️ Geolocation
This will help to narrow down your target audience. Your video should then be shown to people located in the same area as your business.
💬 Description and hashtags
The TikTok description is limited to 100 characters. Write 1-2 sentences for additional information about the video. Add a link to the booking page/number. It will help potential clients find your website and easily book an experience.
Use between 5-8 relevant hashtags for each post (about 3 niche hashtags and 3 broad hashtags). Examples of hashtags to use for VR business:
Niche:

#vr #gaming #vrescaparoom #vrlife #arcades #escaparoom #virtualreality #vrgaming #vrreaction #virtualrealityworld #vrmultiplayer #play #vrgame #vrroom #vrgames #virtualrealitygaming #gaminglifestyle #virtualrealitygames #vrplayers #virtualworld #escaperoomtiktok #prison #alice #horror #cartoon #smashpoint #escaperoomhorror #vrhorror #xmas #funatxmas

Board:

#thingstodoinCITY #CITYlife #dateideaCITY #CITY #CITYhotspots #myCITY #tiktokCITY #CITYguide #CITYactivities #CITYthingstodo #wheretovisitCITY #funthingstodoCITY #CITYgaming #CITYactivity #family #friends #adventure #exciting #team #trythis #future #fun #explore #summertime #funwithfriends #reactions #dateideas #groupactivity #dayoutwithfriends #bestplace #funplace #familyfun #familyentertainment #familyfuntime #fyp #trending #viral
🔥 Trending posts and accounts in VR Escape Room niche
To find what type of content is a good fit for you:
Check out the profiles of role models in your niche

Search relevant hashtags to see what gets the most likes

#vrescaperoom

Follow people in your niche and get inspired by their content
Follow and discover. Get inspiration!
Ideas for content:
Date night ideas

Сity Hotspots

Things to do in your city \ Where to go in your city

Family day out

Surprise your friend

Friend Group activity

Unique entertainment

Celebrate your special day with us

Team building at our place

Bachelor parties

Birthday

Bad weather (Rainy day? We got you..)
🤝 Shares. Influencers. Collabs
Cooperating with TikTok influencers is one of the easiest ways to attract millions of potential customers. The most profitable are micro-influencers. If you combine them with ads - buy the content they create and run it as ads from your account you will double your chances to expand your customer base.
How to work with influencers:
1. Find and direct message the influencers (cheap, time intensive). Search for hashtags related to your niche and find people, who post relevant content (#YOURCITYhotspots #thingstodoinYOURCITY, #wheretogoinYOURCITY, #FamilydayoutYOURCITY, #YOURCITYLife, #YOURCITYtravel).
Target influencers with 5-10k followers. It is important to choose influencers that have the right audience for your products. (location, age, niche).
2. Use influencer platforms to find influencers (moderate cost and time required):
3. Use an agency (the most expensive option, but will save a lot of your time):

Authored by Lena Pylypenko and Bohdana Savchuk