Virtual reality gaming has become increasingly popular among students and is a great way to keep them entertained during school holidays. ARVI VR team has prepared some creative ideas 😉, examples of special offers, and social media strategies that you can use to attract students to play VR games at your venue.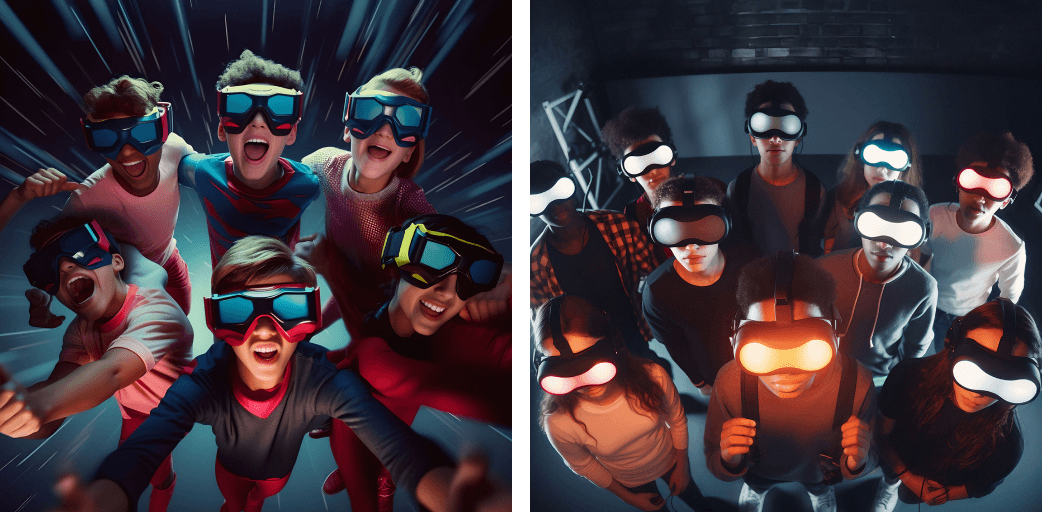 🎁 Create Special Holiday Packages
One of the best ways to promote VR experiences during school holidays is to offer special packages or discounts. Create exciting holiday packages that include VR, snacks, and drinks. You can also offer discounts to students who bring their friends along. This will encourage them to invite more people and help promote your venue.
EXAMPLE
VR Adventure Package: This package includes a 90-minute session of VR adventure games, where your child can explore different virtual worlds and complete exciting challenges. The package also includes a free snack and drink. This package is priced at $35 per child.

VR Ultimate Package: This package is the ultimate VR experience for your child! It includes a 120-minute session of VR adventure and creativity games. Your child can enjoy the best of all worlds and create unforgettable memories. The package also includes a free snack and drink for your child. This package is priced at $50 per child.
All packages include a dedicated VR game master who will guide your child through the experience and ensure their safety. These packages are available only during school holidays and can be booked in advance to secure your child's spot. We hope that these packages will provide your child with a fun and engaging way to spend their school holidays at our VR venue.
🍎 Special school holiday discounts
By offering discounts, you are providing an incentive for parents to bring their children to your VR venue and try out your VR experiences. Discounts can also be a great way to encourage repeat business from customers who may have visited your VR venue before as well as show how valuable they are to you.
Furthermore, special school holiday discounts can help your VR venue stand out from the competition. By offering something unique and special during the holidays, you are giving customers a reason to choose your venue over others.
Overall, discounts can be an effective marketing strategy to attract new customers, encourage repeat business, and boost customer attendance at your VR location during ☀️ school holidays.
EXAMPLES
Group Discount: Offer a discount for groups of 4 or more children. For example, if 4 children book together, offer a 10% discount on the total cost of their session.

Weekday Discount: Offer a discount for weekday bookings during the school holidays. For example, offer a 15% discount for bookings made from Monday to Thursday.

Early Bird Discount: Offer a discount for bookings made in advance. For example, offer a 20% discount for bookings made two weeks in advance.

Family Discount: Offer a discount for families with multiple children. For example, offer a 10% discount for families with two or more children who book together.

Social Media Discount: Offer a discount to customers who follow and share your VR venue's social media pages. For example, offer a 5% discount for customers who like and share your venue's Facebook page.

Referral Discount: Offer a discount to customers who refer their friends to your VR venue. For example, offer a 15% discount to a customer who refers to a friend who books a session at your venue.
These discounts can be advertised through email or social media campaigns to attract parents and students to your VR venue during school holidays. Offering discounts is a great way to encourage bookings and create a loyal customer base.
🏫 Partner with Local Schools
Reach out to school administrators and offer them a special discount for their students. You can also promote your venue through social media and flyers, and offer small prizes to the students who show up.
🏀 Use Social Media Effectively
Social media is an excellent tool to promote VR gaming during school holidays. Post eye-catching invites 😍 to play at your venue. Use hashtags and geotags to reach a wider audience, and encourage your followers to share your posts with their friends. As usual we have prepared special promo materials for you to post on your social media! Please find them with the link: https://bit.ly/3NYBnU8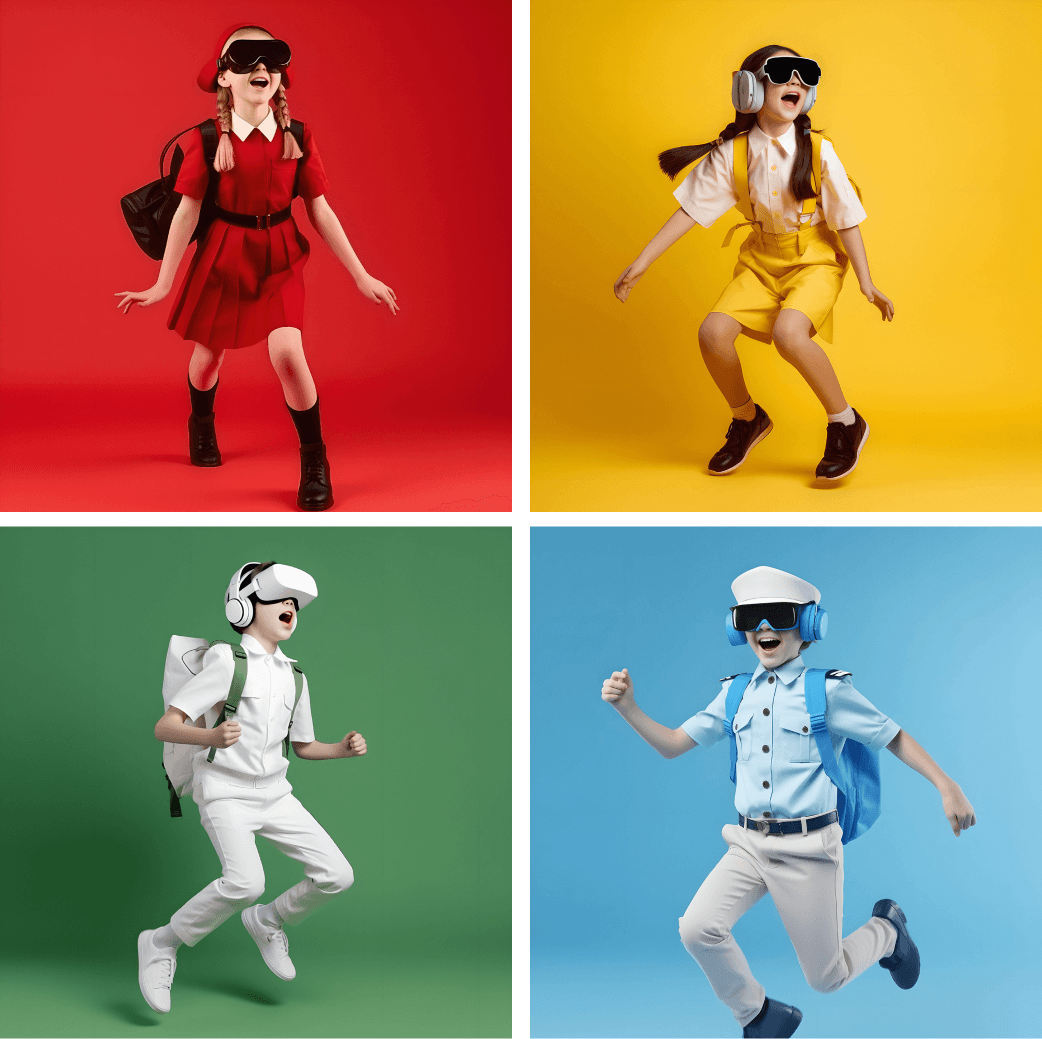 You can also use social media to run a contest or giveaway, which will increase engagement and promote your venue. Partner with schools or student organizations to promote your giveaway to their members to attract as many students as possible.
EXAMPLES
Giveaway
Free VR Escape Room Session: Offer a free VR escape room session to every student, who brings 2 friends to play at your VR venue.

Student Competition: Host a VR escape room competition for students during school holidays. The winner can receive a prize such as a free VR escape room session or 50% discount for the next visit.
Escape Room Challenge: Set up a competition where students can compete to escape a specific VR escape room in the shortest amount of time. The student or team with the fastest time can win a prize, such as a free VR session or a discount.
⚽️ Run Ads on Google and Social Media
Create eye-candy ads 🔥 that highlight your VR games, special offers, and events. Use targeting options to reach your target audience, and set a budget that fits your marketing goals. This will help you attract more customers and increase your revenue.
🛹 Mass mail
Sending a mass email to parents inviting their children to play VR at your venue during school holidays can be an effective way to promote your business. However, it's important to craft a well-written email that will grab their attention and encourage them to take action. Here are some tips on how to create an effective mass email:
Personalizing the email with the recipient's name is a great way to make them feel valued and increase the chances of them reading the email. If possible, include the student's name in the subject line or the opening sentence of the email.
Highlight the benefits of playing VR games at your venue during school holidays. Explain how VR gaming can be a fun and educational experience for children, and how it can help them develop important skills such as problem-solving, teamwork, and creativity.
Offer special discounts or packages to encourage parents to bring their children to your venue. You could offer a discount for the first session, a package deal for multiple sessions, or a discount for groups of friends who come together. This will help to incentivize parents to visit your venue.
Include a clear call to action in the email, such as "Book Now" or "Visit Our Website". Make it easy for parents to take action and book a session for their children.
Keep it Short and Sweet 🍬
Keep the email short and to the point. Use clear, concise language, and avoid using technical jargon or industry-specific terms that may be confusing to parents.
Include engaging visuals such as photos or videos of children playing VR games at your venue. This will help to create a visual image in the recipient's mind and make them more likely to take action.
EXAMPLE
Subject: 🎢 VR Fun for Your Kids During School Holidays!
Dear [Parent's Name],
👀 Are you looking for a fun and engaging way to keep your kids entertained during the upcoming school holidays? If yes, then our VR gaming venue has got you covered!
We are excited to invite you and your children 🧒👧 to come and experience the excitement of virtual reality gaming. Our venue offers a range of interactive VR games and experiences that are suitable for children of all ages.
Playing VR games is not only fun but can also be an educational experience for your children. They can learn important skills like 🧐 problem-solving, 🤜🤛 teamwork, and 🎨 creativity while enjoying their holiday break. Our VR games are not only entertaining but also educational.
We understand that the school holidays can be a busy time, so we have created special packages and discounts to make it easier for you to visit our venue. You can enjoy our games at a reduced rate by using the code: [Discount Code].
Don't let your children miss out on the ultimate VR gaming experience 🧩 this holiday season! Book your tickets now and give your kids the chance to create unforgettable memories.
If you have any questions or would like to learn more about our venue, please do not hesitate to contact us.
😊 We look forward to welcoming you and your children to our VR venue!
Best regards,
[Your Venue Name]

Authored by Bohdana Savchuk
Pictures generated by Lena Pylypenko